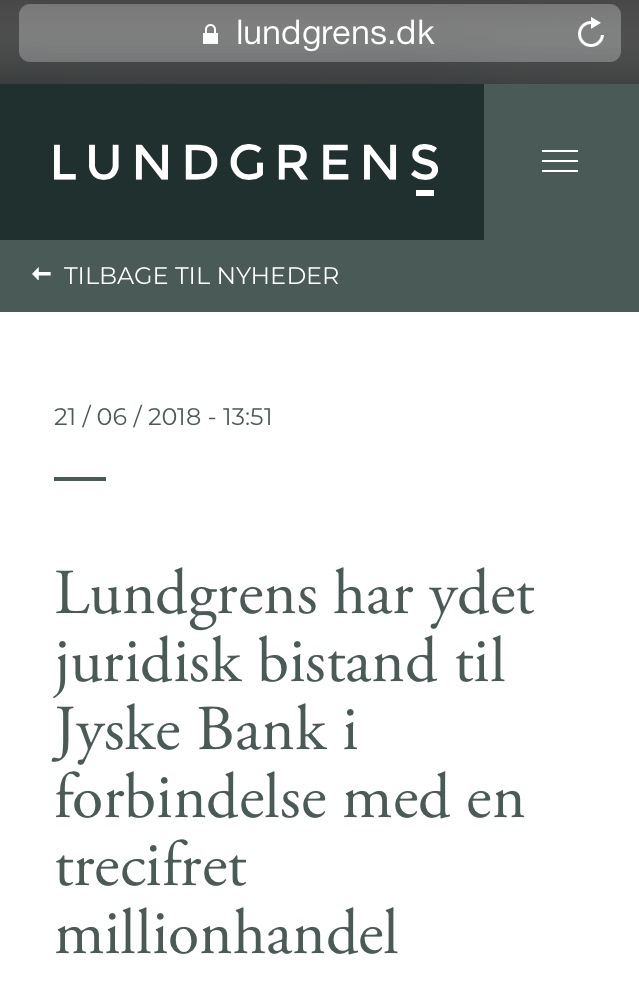 Welkom in the Danish Banks.

To those who trust that Denmark is not a corrupt country.

The question is more how many people in Denmark use bribery or corruption to achieve something, like here to keep a case of millions fraud out of court.

Only after 44 months of continuous work, probably 3,000 hours of work, do we succeed in getting our claims against Jyske Bank presented to the court

As we only after, we ourselves have made sure to present the client's fraud claim against Jyske Bank, in the Danish courts.

Then our new lawyer takes over and makes the new allegation, with a whole lot of new allegations.

What we have asked for presented since 2016.

So not new allegations, but just a whole lot of allegations that our now fired lawyer Lundgren's lawyers refused to submit, as their cooperation with Jyske Bank did not allow a fraud case

Against the same Jyske Bank.

🙂

Then we got a new lawyer on the case, and looked at the annexes.

A customer of Jyske Bank does not understand why Anders Christian Dam will not just meet.

–
–

A customer of the Danish fraud bank, in connection with the firing of their lawyers Lundgrens, for apparently having received a bribe from Jyske Bank.

Maybe directly by CEO Anders Dam for not presenting the client's fraud allegations to Jyske Bank A / S.

The Danish courts have announced this is why Lundgren's lawyers are retiring.

In Danish, has been fired.

–

Which Jyske Bank Board member Philip Baruch, by Lund Elmer Sandager Advokater has rejected should have happened.

/

Lundgren's lawyers have commented that these disqualification issues are purely conspiracy theories, and have nothing on them.

Whether Lundgren's lawyers at Dan Terkildsen himself should be called as a witness.

And the court can explain why Lundgren's lawyers have not presented the client's allegations against Jyske Bank for fraud and fraud, while Lundgren's lawyers.

Presumably by Jyske Bank has been given Lundgrens around 15-20 million Danish kroner to give Jyske Bank advice.

Which could provide a better illumination of Lundgren's moving grounds, to thwart their small client.

Who now for a third time must have a new lawyer.

/

Since Jyske Bank has strongly distanced itself from possibly having used a return commission, or a bribe in the case, in order that the applicant's claims against Jyske Bank should not be presented i court.

The plaintiff has therefore just 1. November submitted an Appendix 168. Becomes 168.A in the case

The annex is from Lundgren's website, where they write that Lundgrens has advised Jyske Bank, in a transaction for a three-digit million amount, in Danish kroner.

"More precisely about 600 million Danish kroner."

/

After the fraudulent exposed client in Jyske Bank has met with their new lawyer.

And that has gone through the case, and is confirmed in the fact that these are not conspiracy theories, but that they are facts.

The client tells their new lawyer that they are actually satisfied that Jyske Bank is convicted of fraud and forgery false.

Following the allegations which the plaintiff himself had to make in the closing plea, which Lundgrens was certainly paid not to present.

–

Clearly, the plaintiff would have included the seriousness of Jyske Bank, in all likelihood, bribing the plaintiff's lawyer, not to present the client's fraud allegations against the defendant danish bank Jyske Bank.

/

Prosecutions directed directly at the bank's overall Board of Directors to stand together in association with, the Jyske Bank Group's continued and very serious failure business against the bank's customer.

/

The plaintiff also states that in three submitted letters from 2018, the group management is all offered that they could actually discharge their mandate.

Know that the board members who chose to sign

Jyske Bank has been exposed to fraud for a number of years and will no longer be contributing to Jyske Bank causing fraud, the members could sign and return the letter to the applicant.

–

By signing, the members of Jyske Bank's Board of Directors could be exempt from liability.

It is stated that not a single member of Jyske Bank's Board of Directors / Group Management has wanted to stop the fraud against the bank's customer.

/

That with the inner circle in Jyske Bank by CEO Anders Christian Dam, seems to have paid Lundgren's lawyers, through the use of a return commission.

The applicant's allegations against Jyske Bank appear to be corroborated only as true charges.

–

When Jyske Bank is ready to lie in the court itself, by Lund Elmer Sandager and in this case has lied to the court, to want to disappoint in legal matters, and then to continue deceive the bank's customer.

/
/

CEO
Anders Christian Dam

CALL NOW

0045 22227713

This is a continuing hand, which since May 2016 has been hould out against Jyske Bank's Board of Directors.

And most be especially clear to you Anders Dam.

–

If you have found something that does not fit, then let's meet and review the evidence, tell us which places Jyske Bank disagrees with the dokumation.

If there is anything about Jyske bank and the management says that is untrue?

Should we then not meet, and at the same time get the places that have been written accusations against Jyske Bank if there is no team in any of the accusations.

–

This small matter, Jyske Bank's foundation emphasizes, and running a fair banking business is not part of the board's wishes.

If we are wrong, we ask the Jyske Bank Group Management for dialogue.

Anders Dam old boy, call now at +45 22227713

And let's meet, we're a little tired of one-way communication, after all, it takes 2 to have a dialogue.

/
/

The applicant states that they would still like to receive the court's offer of litigation.

Which Jyske Bank has shown no desire.

/

That the plaintiff has repeatedly asked the management of the continuing fraud to meet, no one can doubt, therefore we would like to repeat

Jyske Bank is welcome
Just call.

Show that Jyske Bank is an open and reputable bank

Show that Jyske Bank is a fair and honest bank.

IT SHOULD NOT BE SO DIFFICULT.

/
/

In Denmark it is David against Goliath

Thus, the largest Danish banks do business.

And all customers are as vulnerable as we are, the question is just who will be the next victim of Danish bank fraud.

Remember this here is all our thoughts in an open diary.

/
/

The plaintiff's new attorney has obtained a copy of the closing plea of ​​August 28, 2019.

The plaintiff, who is poor at writing, and probably also slightly dyslexic, has stated that there are some typos and corrects these errors to the best of his ability.

But as a starting point, the lawsuit contains the allegations that Rødstenen's lawyers and Lundgren's lawyers have countered were presented.

Whether Lundgren's lawyers saw Jyske Bank's Group Management been honored for helping Jyske Bank keep the fraud case out of court by continuing a case of bad advice.

You can think about for a bit of time.

/

Jyske Bank can be contacted here +45 89898989

the company

Storbjerg Business

Soevej 5.
3100. Hornbaek

Denmark

Phone 0045 22227713

/

When it comes to Danish banks, it's about cheating their customers as much as possible, and banks like Jyske Bank go so far as to expose customers to fraud.

Then it is only a moment before some customer finds evidence that the Danish bank Jyske Bank is going really far for their shareholders.

We can mention here a few of them, Nykredit, Codan, ATP.

Atp's board of directors does not mind Jyske bank exposing customers to fraud, and will not interfere.

/

Falou the small players fight against the evael big danish bank Jyske Bank at www Banknyt dk