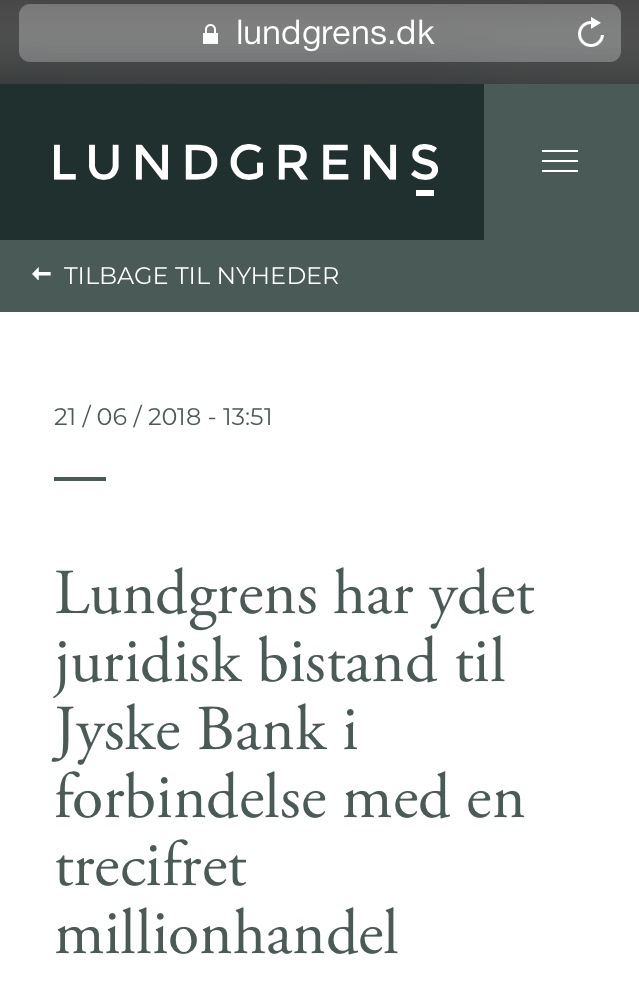 Known Danish law office suspected of receiving return commission of large Danish bank

–

Regarding whether Jyske Bank has bribed Lundgren's lawyers, in the form of a return commission.

For this reason, through a collaboration between Jyske Bank and Lundgrens, not to present the client's claims against Jyske Bank.

/

Then it is a FACT

First
Lundgrens gets our case against Jyske Bank on February 5, 2018.

2nd
Lundgrens enters

Third
Lundgrens check the website www.BANKNYT.dk April 16, 2018.

4th
Lundgrens then enters into a million cooperation with Jyske Bank.

5th
Just as it is the FACT that Lundgrens will be kicked out on 25 September 2019 for the period 5 February to Lundgrens.

At least 30 times have been informed of the allegations.

And have been given direct INSTRUCTION, to present the client's fraud allegations against Jyske Bank, without following any of the client's instructions.

🙁

It should be investigated by the police whether Lundgren's lawyers have been bribed / paid by Jyske Bank A / S

And who at Jyske Bank has approved contacting Lundgren's lawyers around March May 2018, to advise Jyske Bank on a transaction for around DKK 600 million.

Just as a study on Jyske Bank has given Lundgren's other tasks, and which.

Dan Terkildsen from Lundgrens has not wanted to answer the client's questions, about the cooperation between the parties Lundgrens and Jyske Bank.

/

If Lundgren's lawyers are a reputable law firm.
Then the management of Lundgren himself contacts the police and asks them to investigate Lundgrens
The suspicion that some of the partners have been dishonest towards their customer / small client ..
/
This is an invitation to Lundgrens and Jyske Bank.
Now ask the police to investigate
About Jyske Bank bribing Lundgrens to counteract their client's case against Jyske Bank and the management.
To directly contribute to fraud allegations against Jyske Bank has not been presented.
Why the Client Himself Has to Present, the 52-page Final Petition, October 28, 2019
When Lundgren's lawyers have been instructed several times to present the client's fraud allegations.
/
We do not need to ask the management of Jyske Bank to ask the police to investigate Jyske Bank, because the bank has bribed Lundgrens, by using the return commission.
Since Jyske Bank has already lied to the court through their board member and lawyer Philip Baruch from Lund Elmer Sandager Advokater, already, several places in legal matters.
🙂
Like Jyske Bank, the customer who is exposed to the bank's long-standing fraud wants an early decision.
But Philip Baruch, we were just bombed back to September 25, 2019, after we discovered that Jyske Bank probably bought our lawyer Lundgren's lawyers in April 2018.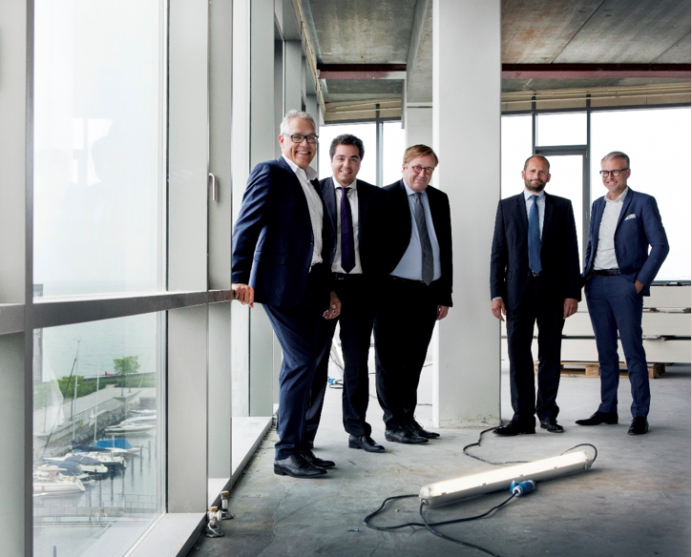 So it's not conspiracy theories, as Lundgrens thinks it is, but simply one FACT