Customer catches the BIG Danish bank "Jyskebank" in a million scams.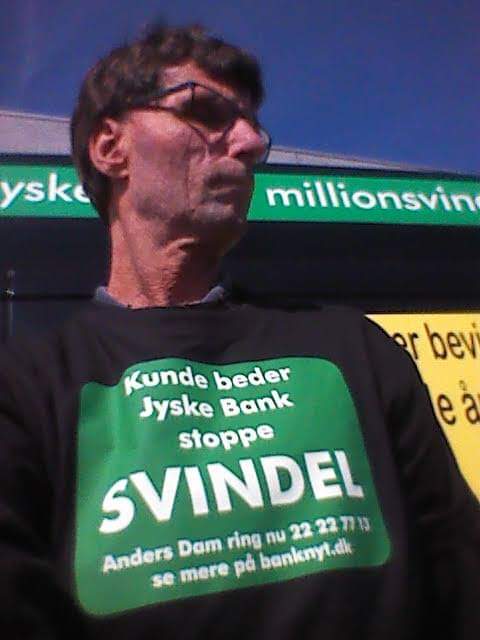 You probably already know that several Danish banks, have made money laundering for billions.

And that the Danish state first ruled on money laundering, after the criminal activities, through the press now was published.

And and after Estonia, asked a large Danish bank, to close their banking business in the country.

/

Most of our post about criminal Danish banks, it is written in Danish, but further down on BANKNYT.dk

Have we tried in English to explain, how banks in Denmark, through corporate management, do and continue to make fraud.

/

We are trying to explain about, Denmark's second largest bank Jyske Bank, and that it is the board of directors ther continue ther fraud themselves.

That is the board members ther is behind the bank's fraud and exploitation of their customers themselves.

🙂
🙂

We is refer to ourselves, if you have any questions, please call us at.

0045 22227713

If you have any questions for the Danish bank, you can call them at.

0045 89898989

VIBORG

🙂
The Chase BS 402/2015-VIB
🙂

The bank directions CEO Anders Christian Dam respond again.

After the bank customer, and client asks their lawyer, Lundgrens Dan Terkelsen, to present the client's claims that Jyske Bank is doing fraudulent transactions.

/

And after that the bank has learned about the new lawyer, Jyske Bank even themselves contacts the client's Attorney.

And offers the client's attorneys Lundgrens a large million task.

And the Danish bank jyske bank, enter into a million agreement, with the client's attorney's Lundgrens lawyer.

And afterwards, will the lawyer company Lundgrens, not present any of the client's claims off fraud to the courts.

🙂

The client thinks therefore the bank Jyske bank, have bribed, their lawyers from the firm of Lundgren's lawyers, not to present the client's allegations, and evidence to the danish court.

🙂

In all ways, since May 2016, we have been trying to get management I Jyske Bank to talk to us.

Unfortunately, the Danish bank Jyske Bank is determined, that the members who are together in the association, would rather continue the bank's million-dollar fraud.

Rather than talking to the deceived customers who question the credibility of the Danish bank.

/

The Danish police have refused to investigate Danich Banks ass Jyske Bank for fraud, and now there is also suspected corruption, or bribery, if you want to call Corruption for bribery.

/

You can ask yourself if Jyske bank is the only Danish bank doing fraudulent transactions.

or whether corruption is more widespread in Denmark than our case suggests.

/

Since we have had to fire Lundgren's lawyers, for directly to go against our case, against Jyske Bank.

And that nothing from the fraud case has been presented to the court.

And therefore, 43 months after the scam was discovered, we still have not made any of our claims

we must therefore again have a new lawyer.

This time, we take one that Jyske Bank Group Management cannot bribe, with offers to take work for Jyske Bank, what we call the return commission.

🙂
🙂

If Jyske Bank's Executive Board with CEO Anders Dam wants to meet and talk to us.

Then we like to give thunder coffee, then Anders Dam can bring the cake.

And then we could sit down together and as adult people, then talk together.

/

IT CANNOT BE SO DIFFICULT TO UNDERSTAND

WE DO NOT WANT THIS CASE.

BUT THE QUESTION IS

IF WE ARE RIGHT AND JYSKE BANK'S BOARD MEMBERS REFUSE TO ACCEPT IT.

So Jyske bank has a pretty big problem.


/

Are you still amused by your power to deceive the bank's customers, Anders Dam

we do not think it is fun to be deceived at Denmark's second largest bank.

And offers CEO Anders Christian Dam

A GOOD COPY THROUGH COFFEE.

ANDERS DAM,
SO YOU CAN GIVE THE CAKE

🙂

And Anders

We still live in Denmark
on Soevej 5.

3100 Hornbaek

Phone +45 22227713

You may also want to call us, let's meet.
🙂


#news #finans #banks #stokes #JyskeBank #AndersDam #Politi #dkpol